About Our Company
My Pet Webstore is one of Graphic Impact's family of webs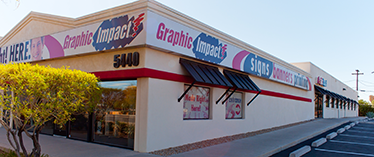 tores that has been designed specifically for pet lovers in Tucson.
Graphic Impact was founded in 1989 and today is a leading digital printing company in Southern Arizona.
Our technology enables us to print nearly-everything on nearly-anything from signs and banners to shirts and waterbottles. Best of all, we can inexpensively print a single item just as well as we print hundreds of items. Customers appreciate that they can order just a single item and then come back later for more.
Helping Local Businesses Make Money
Recently, we have decided to help local businesses grow their sales by offering our printing services to them through a family of webstores.
All a business has to do is offer our customizable products to their customers. The business makes money from the sales while we take care of everything - from processing the order to getting the product to the customer.
Proudly Made in America
While producing a constantly growing variety of products for corporations, non-profits, universities and consumers, our technology base has grown to a pont where we are now second to none. While others outsource and supply many of their products from off shore (China, etc.) we fabricate almost all of our products in-house. Now these same products are available to our affiliates to offer to their visitors (through webstores and blogs) to monetize their efforts.
A Family Business With a National Reputation
What started as a small family business has grown into one of the leading producers of Signs, Graphics and Printed products. Our founders have been quoted numerous times in industry publications as well as Business Week and Entrepreneur magazines.
Howard and Marlene Volin's company is made up of their three sons and some of the most creative minds in the field. Before founding Graphic Impact, Howard held executive marketing positions in companies such as Hewlett Packard and Revlon and was part of a start-up team for a leading biotech company. As a member of the Board of Directors of non-profits such as the Arthritis Foundation and the Fiesta Board he and his family continues to support the local community.
A 15,000 Square Foot Facility With the Latest Technology
Our present facility is approximately 15,000 square feet which includes a 1,500 square foot showroom highlighting many of the company's most popular products. Please accept our invitation to visit us soon.
A bold statement, but our customers say we can make almost anything and with the quality, creativity, and swift delivery that they demand.